EAUN-CUAN ties enter new phase: EAUN opens collaborative training school for nurses and signs membership agreement
After two years of careful planning, this November saw, EAUN membership and the opening of a collaborative training centre for urology nurses in China, finally come to fruition, as part of the EAUN's goals to expand links with urology nurses overseas.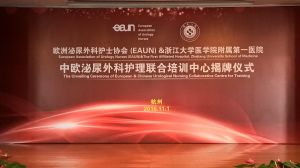 In his role as former EAUN chair, the author attended the First Affiliated Hospital at Zhejiang University School of Medicine in Hangzhou, host city and venue of the recent G20 summit, to formally open the only collaborative training centre for nurses in China. The collaborative project is a first not only for the EAUN but also for nursing in China, marking it as a real and unique achievement.
The formal opening of the collaborative training centre was attended by the heads of the university and medical deanery, vice chair of the Chinese Urology Association (CUA) Professor Xie and Head of the Chinese Urological Nursing Association Committee (CUAN).
It was an honour for me to finally open the centre after many years of negotiations and hard work. This represents the first ever collaborative centre for training in China and I'm delighted that urology nursing is the first. The centre will provide key training opportunities for urology nurses not only in the locality, but across China.
In acknowledgement of his efforts to develop the centre and academic work in urology nursing, the author was honoured by the university as a visiting professor and co-director of the training centre. The honour also reflects and acknowledges the crucial role played by the EAUN and its partnership with CUAN.
A 1,000-km journey by train took the author to the annual CUA conference in Tianjin in northeast China, for the signing of the CUAN board membership with the EAUN. The signing was an auspicious occasion, with a packed house, standing-room-only attendance. In attendance was former CUA president Prof. Zhang-Qun Ye who lauded the closer partnership with the EAUN.
To finally formalise the agreement and with the EAUN-CUAN entering a new phase in its partnership, the author is grateful to all those who made this key achievement possible, and also for the hospitality and friendship shown throughout the visit.
---
Lawrence Drudge-Coates, Urological Oncology Clinical Nurse Specialist, Past Chair, EAUN, London (UK), l.drudge-coates@eaun.org