The following resources are currently available:
EAUN Newsletters (click here)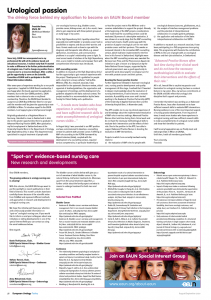 EAUN Meetings  (click here)
Former Presentations
Instructions for Presentations
Programme Books
Online courses and educational tools (click here)
Online courses and Abstract and Poster preparing tools can be found in the section Education.
Other resources
www.continenceproductadvisor.org is a collaborative project from ICS, ICI, UCL and the University of Southampton, is free from company funding, and offers continence advice for users, carers and health care professionals.
The ECRI Guidelines Trust is a Center for Clinical Evidence and Guidelines. ECRI carries on the work of the National Guidelines Clearinghouse, which was discontinued in 2018.
ECRI is delivering concise, evidence-based clinical practice guideline summaries directly to clinicians, researchers, and medical librarians for free. The EAUN Guidelines can be found here. The guidelines repository is open access. All that is needed is to create an account.