EAUN joins Chinese Urology Association meeting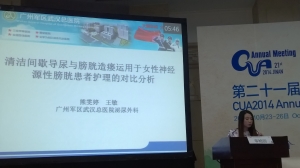 My visit to China on invitation by the Chinese Urology Association's Nursing Committee, started in Wuhan, capital of Hubei province and the most populous city (population at 10 million) in Central China. Wuhan lies in the eastern Jianghan Plain where the Yangtze and Han Rivers meet.
Accompanied by Mr. Larry Tsang and Gilbert Lui, Nursing committee members of the Chinese Urology Association, who were instrumental in organising this visit, I met with Ms. HE Wei, chair of the Nursing Committee and Prof. YE Zhang Qun, immediate past president of the Chinese Urological Association (CUA). Their department, at the Hospital of Tongji Medical College of Huazhong University of Science and Technology, is an extremely busy unit where around 10,000 urology outpatients are attended to every week.
With translators, language did not prove to be of any hindrance as we discussed common issues we faced in urology nursing care, areas for educational collaboration and EAUN membership. Such discussions proved to be both highly informative and productive.
CUA meeting
It was truly an honour to be the first foreign urology nurse to attend the CUA Annual Meeting, and my visit was met with both intrigue and delight as I was introduced to CUA members
I also renewed old acquaintances from Hong Kong and again met Prof G. Zhou, urology professor of the Beijing Hospital of Ministry of Health, who had completed his PhD work at my institution some 12 years ago. As head of international relations for the CUA, he interviewed me regarding my visit, which provided an opportunity to highlight the work of the EAUN and the benefit of collaboration with CUA nurses.
21st CUA conference, Jinan
The nursing component of the meeting was held in the Shandong Hall. After a few words of Mandarin (which I practised many times!), I presented an overview of the EAUN, including its key clinical guideline developments, e-learning education and membership benefits, all of which were positively received. Being all too familiar with the EAUN abstract presentations, it was a real insight for me to hear some of the work being carried out by urology nurses in China, which was not different from our own. The meeting received 738 nursing papers for consideration which covered key aspects of urological clinical care, nursing education, scientific management and innovative research. Only 29 of the 738 were presented at the meeting due to practical considerations of hosting this event. There were presentations focusing on the growing role of rehabilitation, its impact on traditional postoperative care, improvements being made in the patient's postoperative recovery rate and shortened hospital stay. This was something all too familiar in my own clinical practice, but nevertheless not with the same population base.
The visit to China very much highlighted the need and benefit for collaboration across different urology nursing organisations and the ensuing challenges. The EAUN's mission is not only to support and encourage the development of urology nursing within Europe, but also to collaborate with national societies across the globe in support of the development and application of high-quality urology nursing practices.
This particular issue was evident in discussions regarding EAUN clinical guidelines– with translation and modification to fit local practices- which will prove to be a very successful initiative. I therefore look forward to our continued collaboration. My thanks to the CUA committee for its hospitality and very warm welcome.
By Lawrence Drudge-Coates
Clinical Nurse Specialist, Uro-oncology
EAUN Chair
London (UK)
l.drudge-coates@eaun.org