EAUN launches summary catheterisation guidelines

One of the goals for the EAUN is "To foster excellence in urological nursing throughout Europe" and writing guidelines is a way to achieve this.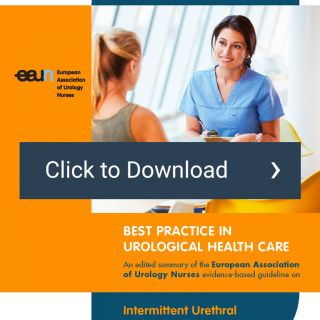 In 2009 EAUN published the first evidence-based guidelines and ever since discussed the benefits of pocket guidelines. Pocket versions can promote the use of guidelines to guide clinical nursing practice. We are very happy that Wellspect recently gave us the opportunity to create such a pocket version. It is based on our guidelines "Catheterisation, Urethral Intermittent in Adults" (1).
The original guidelines on intermittent catheterisation are based on the best available evidence and include standard and reliable protocols. The new, short version summarises all the main guidance points and the main recommendations of the original guidelines. It also includes the step-by-step procedure on how to perform intermittent catheterisation. More appendices are available on-line.
Effective strategies
Knowledge dissemination is a crucial part of patient safety. If evidence-based knowledge is not easily available inclinical practice, patients are at risk not to benefit from it. Knowledge management is described as 'getting the right knowledge to the right people, in the right place at the right time' (2). One of the challenges is to ensure that nurses realise what they do not know, so they feel the need to consult guidelines. Also they must be aware of the existence of these guidelines. Effective strategies to implement clinical guidelines therefore have multiple components:
Healthcare professionals, patients and stakeholders must be aware of the guideline;
The guidelines must be easy to understand;
They must be easy to use.
In 2016, the National Guideline Clearinghouse recorded 5,638 page views of "Catheterisation: Urethral Intermittent in Adults" (report 2016). This means that quite a lot of nurses are aware of the existence of these guidelines, but far from everybody.  The release of the EAUN edited summary is a very important step in the further implementation.
London EAUN Meeting, March 2017
At the 18th EAUN meeting in London, 25-27 March, EAUN will launch the edited summary catheterisation guidelines on Saturday 25 March. Printed copies of the pocket guideline will be available for all delegates in the EAUN Booth on Level 3 and in the Exhibition hall (EAU  Corner). If you would like to attend the session, please check the details below or in the EAU Events App.
EAUN Note: Wellspect HealthCare supported the edited summary with an unrestricted educational grant.
References
1. Vahr S, H. Cobussen-Boekhorst, J. Eikenboom, V. Geng, S. Holroyd, M. Lester, I. Pearce, C. Vandewinkel, Catheterisation-Urethral intermittent in adults. Dilatation, urethral intermittent in adults. Evidence-based Guidelines for Best Practice in Urological Health Care 2013. European Association of Urology Nurses.
2. Kingston, J. Choosing a Knowledge Dissemination Approach. Knowledge and Process Management;19(3):160–170 (2012).
Launch
18th International EAUN Meeting
Saturday 25 March, 2017, 15.30 – 16.00 hrs.
State-of-the-art 1: Guidelines on urethral intermittent catheterisation in adults
Venue: ExCel London
Location: Room 1, Capital Suite 3, Level 3
---
Susanne Vahr, RN, PhD student, Chair-Elect EAUN, University Hospital of Copenhagen, Rigshospitalet, Copenhagen (DK), s.vahr@eaun.org