EAUN21 report: Highlights, crucial updates, and awards
The recently-concluded virtual 21st International EAUN Meeting (EAUN21) delivered the newest and most crucial updates in urological nursing from 3 to 4 September 2021.
Comprised of nursing specialists and affiliated medical professionals, the EAUN21 faculty offered their expert insights through a critical assessment of clinical practices, the role of the nurse in guiding and supporting patients during their patient pathway, and key research developments.
The virtual platform was easy to use with a clear, short, and comprehensive layout. Participants found it easy to find everything of interest and to navigate around. The lectures were more compact than participants are used to in a face-to-face meeting; nonetheless, the speakers managed to bring the message across well with straightforward slides and talks. The platform offered the option to contact a speaker directly if there was not enough time left to answer all questions.
The programme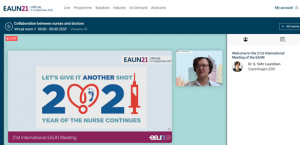 EAUN21 kickstarted with Plenary Session 1: Collaboration between nurses and doctors wherein experts underscored the importance of teamwork especially during times of crises such as treating COVID-19 patients. Participants joined in a minute of silence for the challenges and sufferings experienced by nurses in the past year. The session concluded with the awarding of Mrs. Rita Willener, Berne (CH) with the coveted Ronny Pieters Award for her outstanding contributions to urological nursing research and practice in Switzerland, her role during the early years of the start of the EAUN, and much more.
Succeeding the Plenary Session was Thematic Session 1: Castration-resistant prostate cancer wherein speaker Mrs. Nicole Klok provided the nurse perspective on treating CRPC in terms of patient support such as informing doctors about discomfort experienced by patients (e.g. fatigue, high blood pressure, etc.); focusing on the patient's overall well-being; and motivating patients to pursue/maintain a healthy lifestyle, to name a few. Know more about CRPC, the role of a multidisciplinary team, and more in Mrs. Klok's report here.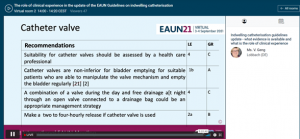 Day 1 of EAUN21 proceeded with sessions on essential developments in addressing skeletal issues in patients with metastatic prostate cancer; exploration of current clinical trials and evidence in treating non-muscle invasive bladder cancer care; the EAUN guideline update on indwelling catheter; the impact of COVID-19 on urological care, and many more.
In addition, other must-attend activities such as the course organised by the European School of Urology (ESU), "The burden of a curved penis, everything you want to know about Peyronie's disease", took place. The course delivered a breadth of clinical expertise that addressed some of the challenges in treating patients with penile curvature in-depth.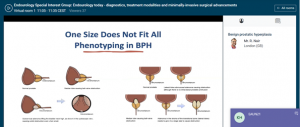 One of the course's speakers, consultant urological surgeon and andrologist, Mr. Vaibhav Modgil, stated, 'The course provided a succinct and comprehensive overview of penile curvature and its management. A constant theme was managing patient expectations. In my lecture "Diagnostic evaluation of the patient and partner", I suggested that we should not be operating on patients who can successfully engage in intercourse. If, however, a patient or their partner cannot engage in sexual activity to their satisfaction, intervention should be considered in the stable phase of the disease.' For the highlights of the ESU course, please click here to read Mr. Modgil's report.
Day 2 commenced with the fundamentals of urology nursing in renal diseases which was followed by sessions centred on an update on the Educational Framework for Urological Nursing curriculum; improving quality of care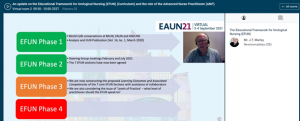 through GIRFT (Getting It Right First Time); and varied perspectives on palliative and end-of-life care, to name a few.
During Thematic Session 8: Continence Special Interest Group: New strategies for promoting patient education in urology, experts discussed topics such as what it is like for a person living with a urinary catheter, and the factors that increase the risk of recurring urinary tract infections. The session also showcased a new animation video on changing a suprapubic catheter. Read the session's summary of highlights by Ms. Eva Wallace (Dublin, IE) here.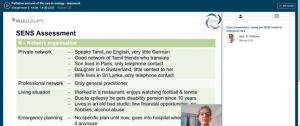 Exemplary work and contributions were once again recognised during the Award Session. The awards and winners were the following:
Best EAUN Nursing Research Project Prize
Sajida Salman Chagani, Karachi (PK)
(Co-authors: Dr. Wajahat Aziz and Dr. Hammad Ather)
Best Science-oriented Abstract Prizes
1st Prize: Lisbeth Leinum, Roskilde (DK)
2nd Prize: Ms. Louise Faurholt Øbro, Velje (DK)
Best Practice-development oriented Abstract Prizes
1st Prize: Ms. Dilara Nur Turgut, Ankara (TR)
2nd Prize: Ms. Judith Elliott, Münster (DE)
A General Assembly wrapped up EAUN21's final day wherein introductions and voting changes in the Board were announced, updates on EAUN Guidelines, educational and accreditation activities were shared, membership development was explored, and an open forum (i.e. proposals and questions from the members) took place.
The meeting's setup
EAUN21 was a fully virtual event. Delegates accessed 22 presentations via the meeting's easy-to-navigate Virtual Platform. These presentations were alternately live-streamed to 2 virtual rooms. Read the impressions of one of the meeting participants, Mrs. Sally Wildeman (NL), here.
EAUN21 was accredited with 12 European CNE credits. A participant can accumulate CNE credits based on the time spent during the meeting.
Those who wish to (re-)watch all the presentations and still collect CNE credits can do so by accessing the presentations via the "On Demand" feature of the Virtual Platform until 4 December 2021.
The next edition, EAUN22 will take place in Amsterdam, the Netherlands from 19 to 21 March 2022. Abstract submission for this meeting is open and submission of Nursing Research Project Plans and Difficult Cases will open soon.