Italian fellow visits high-tech facilities of University Hospital Leuven

EAUN Fellowship report 2022
My fellowship took place at University Hospital Leuven (UZ Leuven) in Belgium, from 28 April to 4 May 2022. UZ Leuven is the largest academic hospital of Belgium, including three different campuses with approximately 2,000 beds.
The Gasthuisberg Campus, where I performed my fellowship activities, is the largest campus of the hospital and hosts many academic facilities and courses,  including a bachelor's degree in nursing. The others are Pellenberg (dedicated to recovery and currently relocated at Gasthuisberg), Sint-Peter (its activities have been moved to the main campus) and Sint-Rafael (under demolition due to the relocation of its activities to Gasthuisberg). Built in the seventies, Gasthuisberg is still growing as new pavilions are under constructions with massive investments.

The extensive facilities of University Hospital Leuven
State-of-the-art equipment
The urology department is run by Prof. Frank Van Der Aa, associate professor of urology. During my stay I had the chance to attend many different surgical operations in the theatre of the hospital, which counts as many as 40 operating rooms. The overall technological level of the hospital seems remarkably high, and the surgical equipment in particular is very recent, such as recent models of DaVinci® surgical robots by Intuitive, Inc. Being a teaching  hospital, the rooms are equipped with two surgical consoles, thus allowing the trainee to safely conduct the operations under supervision of the resident surgeon, who can intervene at any time. Rooms are also equipped with large, high-definition screens to allow all students and persons not directly involved in the operation to see what is going on inside the patient.
Special operations
Among the operations I attended, there were some unusual cases, such as the excision of a massive renal tumour which was duly photographed and documented as a potential case report. I also had the chance to see other typical urological operations, such as radical prostatectomies, nephrectomies, cystectomies with urinary diversions, and slings.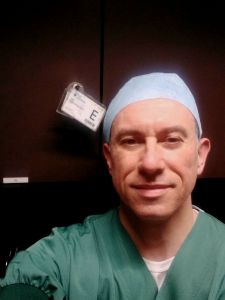 Ready for the OR
Physiotherapist
The nursing activities outside the operating theatre are numerous and diverse. There are separate nurses for patients undergoing follow-up after prostatectomy/cystectomy and for those with  urological ostomies. Pelvic floor rehabilitation is only conducted by physiotherapists and includes pelvic floor muscle training and functional electrical stimulation, which is different from other countries. Everyday nurse work is supported by a well-structured electronic health record, which allows direct calls of patients in the waiting room, quantifies the consultations performed by the nurses and highlights patients who do not show up.
Most requests for information, appointments and administrative procedures can be managed by patients themselves, via a dedicated app for which technical support is provided at the entrance of the hospital.
Photobook
Everyone in Belgium has a health insurance, which is different from other healthcare systems found in Europe (e.g. Italy). There is no complete waiving of bills, even in the presence of oncology patients (i.e. prostate cancer). To increase the efficacy of therapeutic education and information, the nurses use a photobook which also serves as a stimulus for patients to ask questions.
Uroflowmetry
Other activities for nurses are catheter removal and  surgical wound dressing as well as uroflowmetry.  For the latter, dedicated rooms have been equipped with toilet-like flowmeters (which allow measurement with reduced risk of bias due to a stranger environment for patients). Drugs for bladder instillations are not provided as ready-touse,  which differs from other countries. Instead, the hospital pharmacy sends the material needed to reconstitute the drug, which is done by the same nurses who administer the instillation. To reduce the spilling of liquid containing chemotherapy agents, patients urinate on dedicated absorbent cushions after administration, which are then discarded as special waste. For patients needing radiotherapy, a multidisciplinary consultation is scheduled, which  lasts about 2 hours and includes doctors and nurses.
"There are separate nurses for
patients undergoing follow-up
after prostatectomy/cystectomy
and for those with urological
ostomies"
Well organised
Study nurses are present and involved in clinical research. Study protocols involve drug trials and other medical topics, for which nurses are in charge as study coordinators. Their duties are both clinical and research-related, as they perform activities such as drug administration, blood sampling and signs measurements, in the scope of data collection required by the study protocols. Overall, I find this hospital to be very well organised despite the fact that it is a large hospital. It is a reference centre for patients coming from all over Belgium and its personnel is accustomed to providing information in different languages. Floor plans and informative material are available for all visitors, so that everybody, from patients to trainees, knows where to find what they need.
Helpful experience
I was warmly welcomed by Prof. Van Der Aa and his colleagues Karin Elen and Hilde Van De Broek, who were ready to receive me and willing to share their knowledge and experience. Ms. Murielle Ferdinand took good care of the general organisation and administrative aspects. It was clear that everybody in the operating theatre was used to having visitors around and being asked questions. This experience proved really helpful to me as a professional. The opportunity of doing a fellowship should not be missed. The EAUN guarantees its quality and has carefully selected the hospitals which serve as destinations for this experience. Among the many facilities chosen for the fellowship agreements, there is certainly one that boosts the knowledge and curriculum (depending on the professional field in urology) of every nurse, plus it provides new ideas upon returning home. Expense coverage is a rare opportunity for nurses, whose salaries often do not allow them to sustain the costs of a stay without any financial help.
Thank you!
As a final word, I would like to thank the EAUN board for giving me the opportunity to have what I consider to be an important human and professional experience. I am very thankful to all the people at UZ Leuven for their warm welcome, teaching and patience to answer my endless questions and fulfil my curiosity.
_________________________________________________________________________________________
Dr. Stefano Terzoni, San Paolo Hospital, Pelvic Unit, Milan (IT), stefano.terzoni@asst-santipaolocarlo.it