Practical suggestions at 16th EAUN Meeting in Madrid help enhance patient care

11 May 2015. By Alba Leon.
Urology nurses from Europe and around the world gathered in Madrid to learn about the latest in patient treatment in a programme that featured practical workshops, courses, as well as state-of-the-art lectures on cancer detection and follow-up, sexual rehabilitation and treatment for incontinence, among other topics.
The following is an overview of the varied and wide-ranging programme that took place from March 21 to 23:
The three-day event acknowledged the importance of a common knowledge and training framework for urology nurses across Europe. The treatment of urological diseases is a multi-professional effort, in which nurses play a key role. However, the level of education and practical training varies widely among countries. Having a urological nursing standard is therefore crucial to improve the quality of urological care throughout Europe.
Mr. Drudge-Coates, EAUN Chair: "Underpinning this goal are common education standards or a framework which must be created across Europe if consistent and quality nursing care is to be achieved.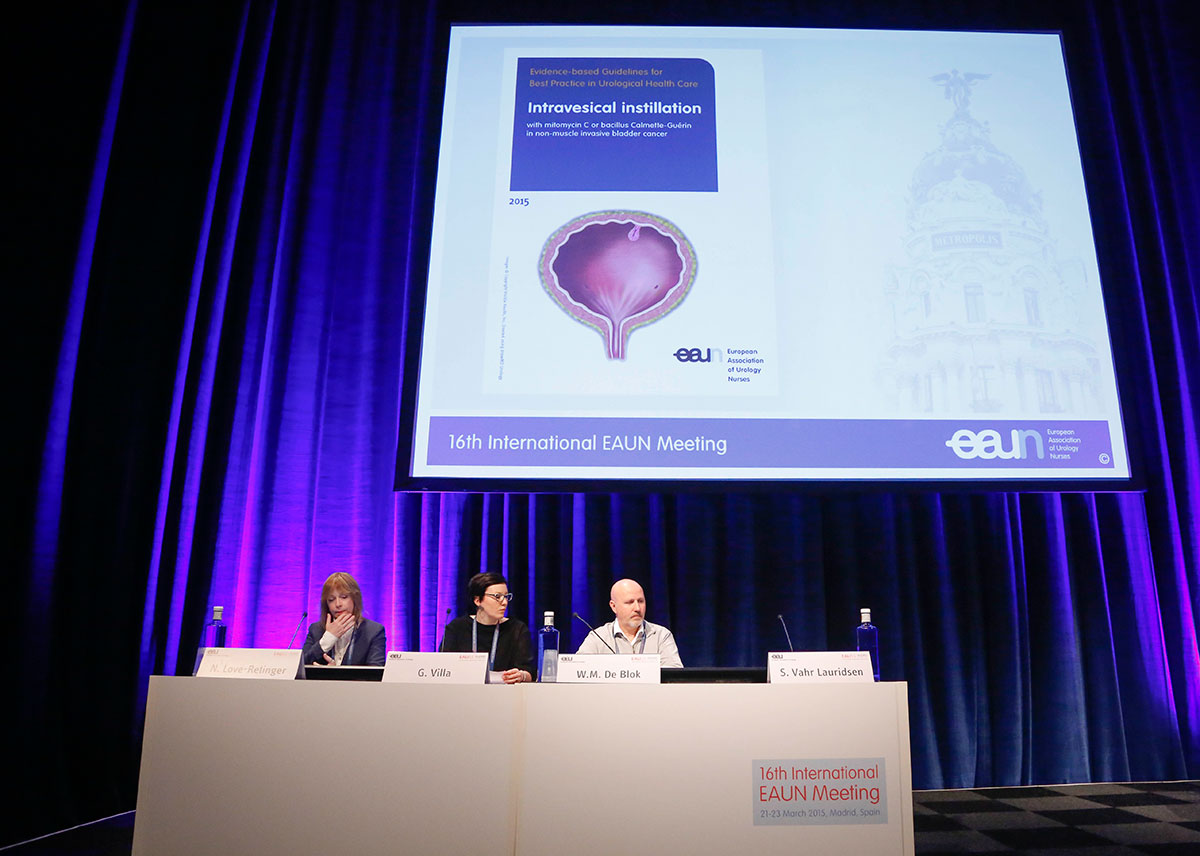 During the plenary presentations it became clear that the level of education and practical training in urology nursing differs widely among European countries and, as such, significantly impacts the role and responsibilities of nursing professionals in the region.
Moreover, it was highlighted how the EAUN is supporting the idea of a common training framework for Specialised Urological Nurses in cooperation with the European Specialist Nurses Organisation (ESNO). The focus on fostering and addressing standards of care underscored the need for urology nurses to conduct studies and actively disseminate research findings in a bid to strengthen evidence-based nursing practices.
The session ended with a discussion on the benefits of providing core educational programmes to urology nurses and how this could be used to create a common ground in Europe. An example cited was the use of online urology nursing courses, where convenient access to structured training and skills evaluation are expected to provide benefits.
The discussion reflected the current need for the EAUN to further boost its initiative in developing an online channel where core urology nursing courses can be offered. The plan is to offer these online courses later this year, as part of the EAUN's educational commitments."
The courses, workshops, and state-of-the-art lectures gave ample opportunity for the nurses to engage in practical discussions on some of the most challenging situations they encounter in their daily interaction with patients. The sharing of best practices provided not only food for thought, but also a re-examination of current nursing approaches. Solutions generally highlight a more active patient involvement.
Nursing guidance
On the third and last day of the 16th EAUN Meeting presentations included topics such as pelvic floor exercises, diagnostic tools for prostate cancer, and sexual rehabilitation.
In a workshop on pelvic floor rehabilitation, Aoibhin McGreal (IE) shared practical tips on teaching pelvic floor muscle exercise and techniques to patients who have undergone radical prostatectomy. Her recommendations focused particularly on the so-called 'difficult patient.' She mentioned that in many cases instructions on how to correctly carry out the exercises are difficult for the patient to follow, if they are given at all. In her view, the quality of the exercise would benefit from clearer prompts, and from encouragement and guidance to check whether patients are performing the pelvic floor muscle exercises correctly.
More importantly, the exercise programme should be as personalised, functional, and progressive as possible to promote not only compliance but also physical comfort. "Maybe it is not that they are difficult patients, maybe it is that we are not teaching them the right way," McGreal concluded.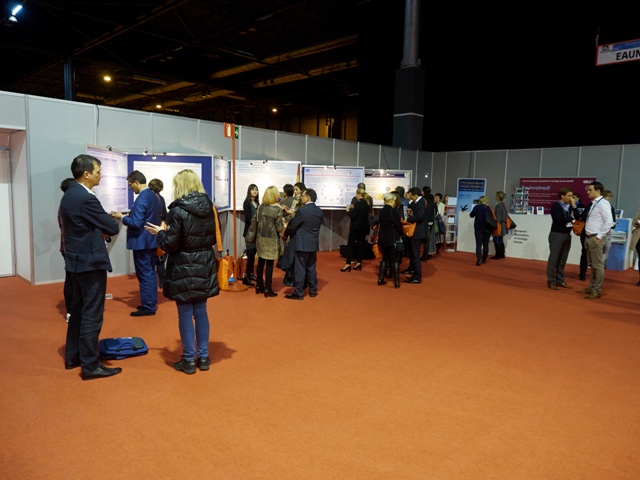 Wendy Naish (GB) presented data from a small study carried out in Croydon, England. Naish looked at 47 men, who had radical prostatectomy, over a period of three years. The study asked about the information they had received on pelvic floor muscle exercises related to post-radical prostatectomy incontinence.
Based on self-reported incontinence established through questionnaires at four to six weeks after the operation, and then after three and six months, her team established that pelvic floor muscle exercises actually did help reduce incontinence episodes, and the number of incontinence products used. "The key is to start early, review how patients are doing, and figure out how often patients need to be seen," according to Naish.
In two state-of-the-art lectures Steven Joniau (BE) and Timur Hasan Kuru (DE) discussed the role of prostate specific antigen (PSA) and imaging, respectively, to diagnose and follow-up on prostate cancer patients. While both are non-invasive, the PSA method remains controversial and not in small measure because it detects slow-growing, non-life-threatening cancers which do not benefit from treatment. PSA results may cause stress in patients and may even lead to patients feeling like they are not getting the appropriate treatment. Regarding Magnetic Resonance Imaging (MRI), the procedure is slowly becoming a guidelineapproved way, as PET scanning, to facilitate active surveillance.
According to Kuru, however, possible treatment pathways, rather than just observation, can also be done with MRI. Research results are promising, although not conclusive yet, but technology is developing quickly.
Female sexual assessment and rehabilitation is an often neglected topic, but it was extensively examined during a European School of Urology (ESU) Course, where the importance and best practices regarding patient questionnaires were shared, particularly in terms of how to apply a questionnaire with a sound methodology.
Although medical personnel are not always free in their choice of questionnaire, nurses were encouraged to understand the needs of the patient not only in terms of questions but also in the administration of the questionnaire, to improve patient care. The session ended with nurses sharing case studies on various problems they faced when attempting to start a programme of sexual assessment and rehabilitation with trauma patients.
Lack of communication, shame and embarrassment, and trust issues are chronic issues in the daily work of a nurse, and overcoming these remain a challenge. However, as the case studies illustrated, nurses can get through to patients and help them improve their sex life and their life in general. To do this, nurses must seek to obtain as much information as possible, be diligent and respectful of the choices made by those in their care.
European Urology Today Vol. 27 No. 2 March/May 2015