What to expect at the EAUN 2015 Annual Meeting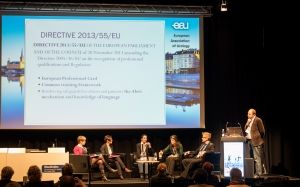 More than 300 delegates from 27 countries attended the 15th EAUN Meeting held in Stockholm last April, which attracted this year outstanding contributions by lecturers from all over Europe.
The meeting in 2015, to be held in Madrid from March 20 to 24, promises to be even more interesting: the EAUN scientific committee and the board took into consideration the suggestions provided by the delegates in Stockholm. The most appreciated sessions will also be in next year's programme plus new topics and current issues.
The programme, available on the website www. eaunmadrid2015.uroweb.org, begins with a plenary session regarding the future of urological nursing and the need for a common framework. Currently, there is an important European debate regarding the definition (and therefore the future) of urological nursing. In two years, the European Union is expected to make a stand on this issue, and this will have an impact on education, mobility, and working possibilities for urological nurses across Europe. Thus, the opening session of the EAUN meeting will focus on this important topic, with lectures on the various aspects followed by a panel discussion. We invite you to join the discussion, as this will have repercussions on our daily practice.
Other items in the programme aim to provide practical and useful information which can be useful in our everyday clinical practice, including topics such as practical management of urological emergencies, urological care for people with learning disabilities, ongoing challenges in male sexuality, intravesical instillation and BCG treatments, 3Tesla magnetic resonance, and many others.
Workshops and panel discussions Several workshops will be offered, including a session on perioperative care in prostate disease, updates on pelvic floor rehabilitation, an ESU course on female sexual assessment and rehabilitation (in collaboration with the European School of Urology), success factors in self-dilatation, UTI in clean intermittent catheterisation, troubleshooting in patients with indwelling catheters, psychological aspects of living with cancer, and care pathways in bladder cancer treatment.
A new EAUN guideline on intravesical instillation, developed by the EAUN guidelines panel, will be presented. The Marketplace Session, already a well-known and appreciated session in past meetings, will allow participants to discuss adapted physical activity, sexual and urological rehabilitation, and ERAS (Enhanced Recovery After Surgery) with internationally renowned experts.
As in the previous editions, two poster sessions have been included in the programme. The number of abstracts submitted over the years has been increasing, and many important topics have been addressed by high quality posters. Everyone eligible for EAUN membership has the opportunity to submit their abstract before December 1st via the congress website.
A video session called "Surgery in Motion," first introduced in Milan and greatly appreciated by the delegates, will be included in the Madrid programme. Original videos, produced in the operating theatre, will show and comment on unusual surgical situations. Additional expert commentary on these procedures will be shared with the audience to provide practical information.
The classic Nursing Difficult Case Solution session entitles free registration for authors of the most interesting nursing cases. These selected authors will also present their work during the meeting. We encourage submissions of original cases by e-mail (details on the website) before December 1. Those who submit a case and are not yet EAUN members will be granted free membership for 12 months.
Finally, if you have a planned research project, the EAUN Research Competition is open with a €2,500 prize to be awarded to the most significant research project, enabling authors to receive support and funding. The author's proposed research will be presented in summary form on the EAUN website.
Deadline for submitting, by email, your research proposal is December 1 (further details on the website).
The 16th EAUN Meeting in Madrid will serve as an excellent opportunity to share expertise and for both EAUN members and non-members to be directly involved in improving urological nursing and play an active role in discussing current issues. Nursing cases, posters and research projects are welcome, and would contribute greatly in an active exchange of knowledge and information.
We look forward to receiving your ideas and suggestions for discussion topics. For additional information, visit our website or contact eaun@uroweb.org in case of queries.
See you in Madrid!
By Stefano Terzoni
Chair EAUN Scientific Congress Office
Milan (IT)
s.terzoni@eaun.org