The European Association of Urology Nurses (EAUN) represents approx. 3,000 nurses, all working in urological care. It is a lively, dynamic organisation with a focus on the importance of excellent urological nursing, especially for the patient.
As the representative body for European nurses in urology we aim to foster the highest standards of urological nursing care throughout Europe and to facilitate the continued development of urological nursing in all its aspects.
The latest developments in the nurses' fields of interest are discussed at the International EAUN Meeting, which coincides with the Annual EAU Congress.

Last September 27 saw the EAUN took its rightful place at the European Parliament to discuss the implications of the Prostate Cancer White Paper during this year's European Prostate Cancer Awareness Day (EPAD). Together with Europa Uomo and the European...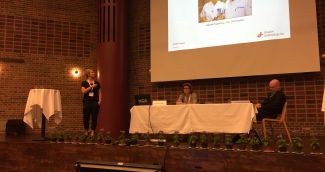 The Scandinavian Association of Urology (NUF) organises a biennial conference for urological doctors and nurses from the Nordic countries. This year the 31st Biennial Conference 2017 was held in Odense, the birthplace of famous fairy tale and Danish author Hans...