EAU Pocket Guidelines App
The European Association of Urology (EAU) Pocket Guidelines App is the No. 1 resource for practising urologists and specialist nurses. Based on the most-read clinical guidelines in urology, the app provides you with access to comprehensive information on the management, investigation, diagnosis and follow-up of a wide-range of urological conditions on your mobile device.
From June 2020 the EAU Pocket Guidelines App is also available for Active EAUN Members as part of the membership benefits.
The EAU Pocket Guidelines App can be downloaded from the Google Play Store for  Android devices or The Apple App Store for iOS.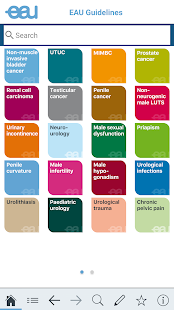 The development of clinical guidelines is one of the core activities of the EAU.
The EAU guidelines cover the majority of the urological field. Over 250 clinicians are involved in the production of the EAU Guidelines, which are updated based on the latest systematic reviews of the available clinical evidence.
The EAU Pocket Guidelines App provides a quick and easy way in which to access the information provided in the extended EAU Guidelines.
The EAU Pocket Guidelines App 2020 covered the following topics:
Non-muscle invasive bladder cancer
Urothelial carcinomas of the upper urinary tract
Muscle-invasive and metastatic bladder cancer
Primary urethral carcinoma
Prostate cancer
Renal cell carcinoma
Testicular cancer
Penile cancer
Non-neurogenic male LUTS, including benign prostatic obstruction (BPO)
Urinary Incontinence
Neuro-urology
Male sexual dysfunction: erectile dysfunction and premature ejaculation
Priapism
Penile curvature
Male infertility
Male hypogonadism
Urological infections
Urolithiasis
Bladder stones
Paediatric urology
Urological trauma
Chronic pelvic pain
Renal transplantation
Thromboprophylaxis in urological surgery
Sexual health
The guidelines are continuouly updated and topics may change to adapt to the needs of the members.