Special Interest Groups (SIGs)
Purpose
The purpose of establishing SIG groups is to provide a forum/think tank for nurses with a special interest/knowledge about specific urological issues, in which they can exchange experiences and investigate urological nursing issues related to the topic of their group. SIGs support the EAUN board with their expertise/special interest about e.g. Prostate, Bladder or Incontinence. They advise on guidelines, lectures, speakers, enquiries from members or companies, write articles in the EAUN newsletter, etc. They build up a network and enhance their own knowledge at the same time.
Special Interest Group Members 2019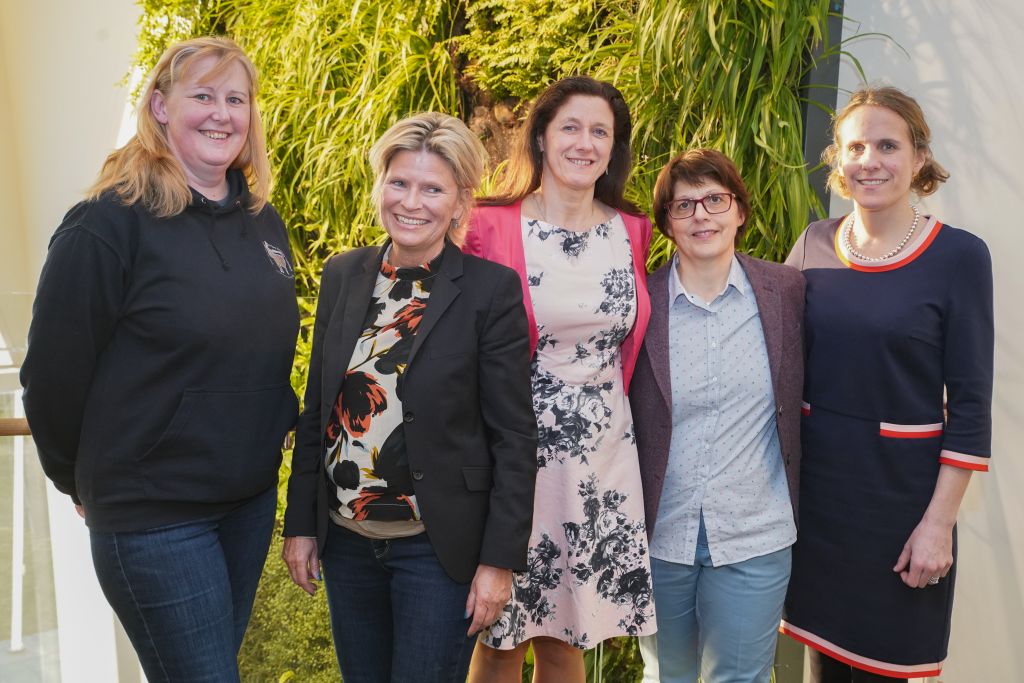 From left: Sharon Holroyd (UK), Bente Thoft Jensen (Chair Bladder Cancer Group), Jeannette Verkerk (EAUN Board), Corinne Tillier (EAUN Board), Kathryn Chatterton (UK)
Missing on the picture: Eva Wallace (IE), Heike Püschel (CH), Lawrence Drudge-Coates (Chair Prostate Cancer Group), Linda Söderqvist (SE), Virginie Lejay (FR), Stefano Terzoni (Chair continence)
Structure
A SIG group is formed by nurses (or other health care professionals) with special experiences in one particular part of the urology field.
Members can be invited to step into a group at any time. They do not need to be approved by the general assembly (the EAUN members).
The size of the group is not set in stone but it would be assumed a group would be a reasonable number that could form a good bond and achieve results.
Neither is there a specific term for being a member of such a group, nor is membership restricted to one group.
SIG members can be invited based on the information in our membership database, they can apply themselves or they can be invited by the SIG chair or EAUN board members.
As all members are volunteers, there is no obligation to participate in every project the group decides to start.
Every SIG group will have a chair who should act as the connector between the group and the responsible person within the EAUN board.
The SIG chair reports the ideas and results the group has produced to their contact in the EAUN board.
The groups will work autonomous and will have the freedom to work on relevant topics.
If the realisation of an idea will cost money, the plan or idea that is proposed to the EAUN board should be accompanied by an estimated budget.
The final decision if an idea should be further explored by the SIG group is then taken by the EAUN board as only they can decide what fits in the strategy and what amount of money the EAUN is able to spend on it (e.g. print outs, video conferences).
The responsible EAUN board member will report back all results and ideas of each group to the rest of the board.
Ideas and possible tasks for consideration by a SIG group in their field:
Suggest topics and lecturers for upcoming EAUN congress programme
Suggest workshops for next EAUN congress
Find topics for publication (e.g. in the European Urology Today or nursing journals) and write articles
Find authors that can be invited to write about a certain topic
Suggest topics that might be worth publishing as a future nursing guideline, assist in scoping a guideline
Suggest topics that might be worth to be explored as a research project
Find existing research projects that might be supported by the EAUN/SIG group
These bullet points are only meant to give some ideas on what might be undertaken by the groups. Own ideas and suggestions of the groups are very welcome and will be discussed by the EAUN Board provided they are possible and of interest according to the long term strategy of the EAUN.