The EAUN is a European organisation with over 2,500 members from all over the world. To be able to share knowledge with this group e-learning is a perfect tool: you don't need to travel and you can take the course when it suits you. The development of these courses however is a long and costly process. With the support of the EAU and companies in the field, the EAUN will continue to develop e-learning.
New e-courses will be announced on this website, and on our Facebook page and Twitter.
Registration & fee
e-Courses are only accessible for EAUN members with a current membership and free of charge.
The e-courses are posted on the Educational Platform.
Accreditation
To receive a certificate with accreditation points the post-test of the course has to be completed successfully.
EAUNwebinar e-courses are accredited within the EU-ACME/CNE programme for a maximum of 1.0 CNE credit (1.0 hour) by the EUAB-CNE (European Urology Accreditation Board – Continuing Nursing Education.
Contact
EAUNwebinar: Getting it right the first time (GIRFT) – a concept to optimise the bladder cancer pathway e-course
By the EAUN Special Interest Group on Bladder cancer – EU*ACNE accredited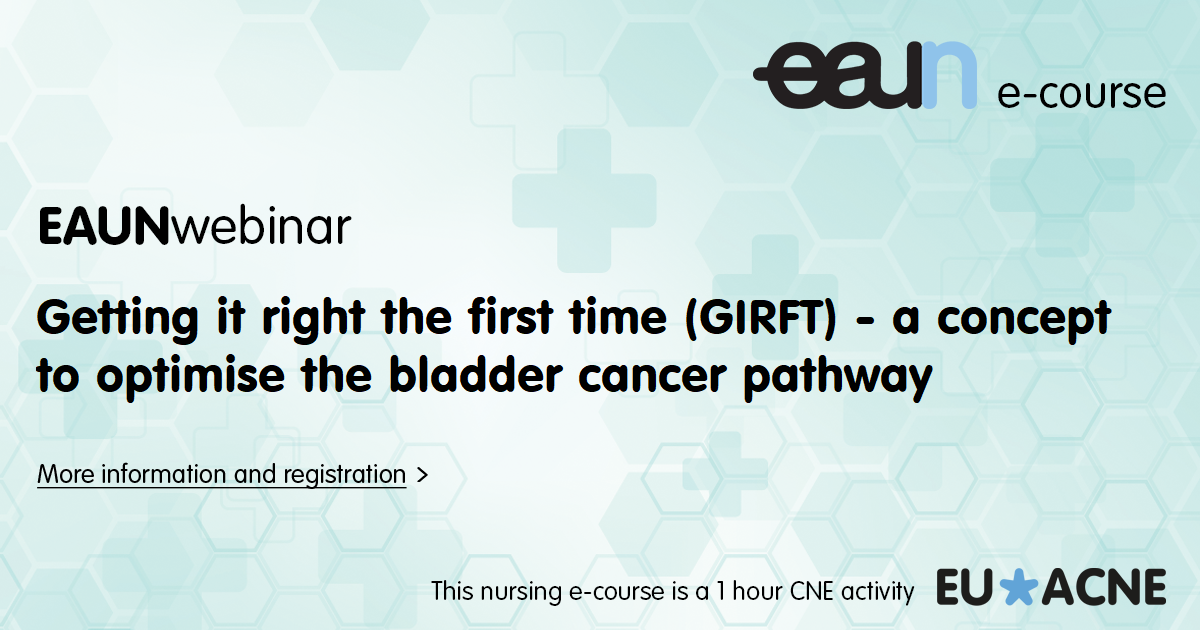 EAUNwebinar: Improving efficiency within the robotic theatre
e-course
By the EAUN Special Interest Group on Endourology – EU*ACNE accredited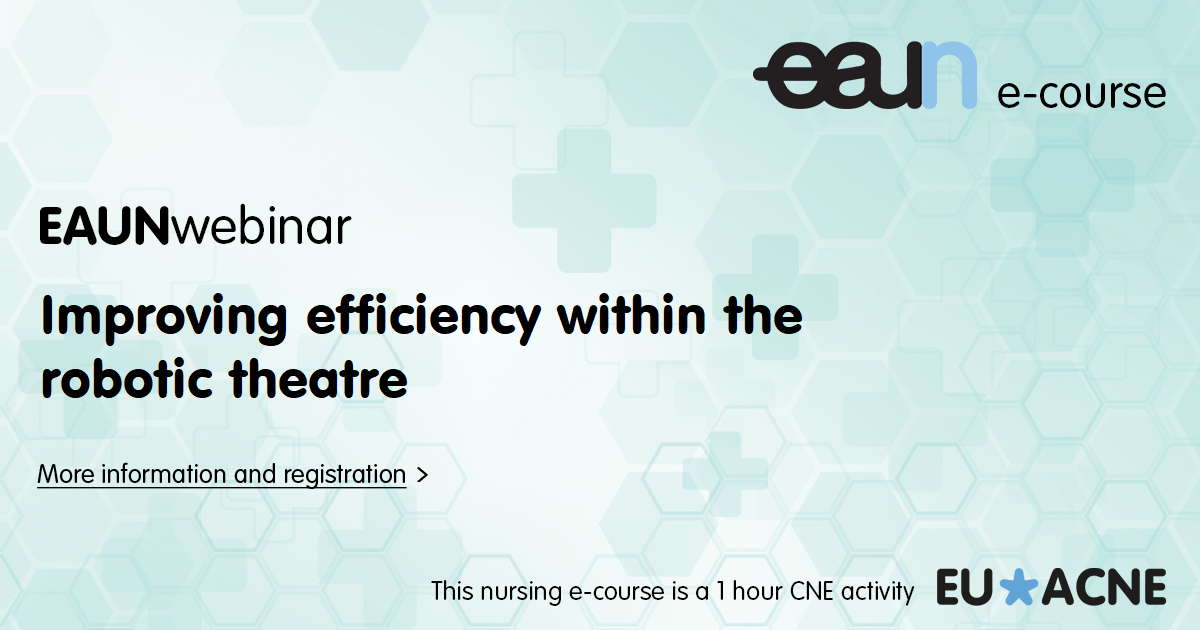 EAUNwebinar: Living with prostate cancer: Understanding fear, and strategies to support your patients
e-course
By the EAUN Special Interest Group on Prostate cancer – EU*ACNE accredited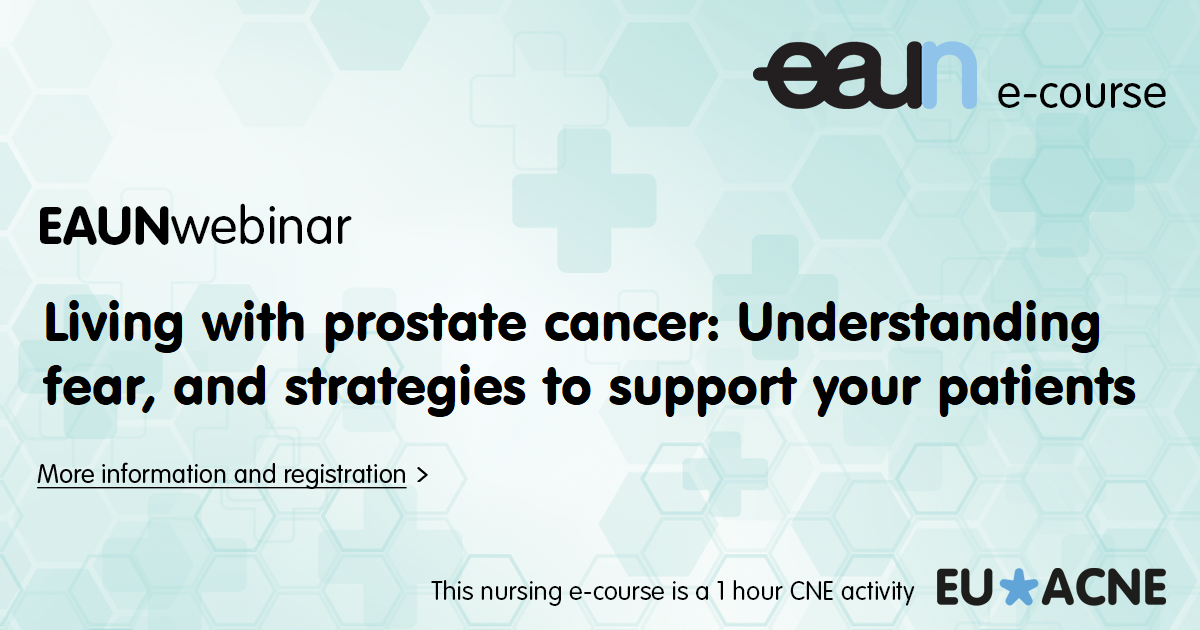 EAUNwebinar: Assessment and nursing management of refractory chronic pelvic pain
e-course
By the EAUN Special Interest Group on Continence – EU*ACNE accredited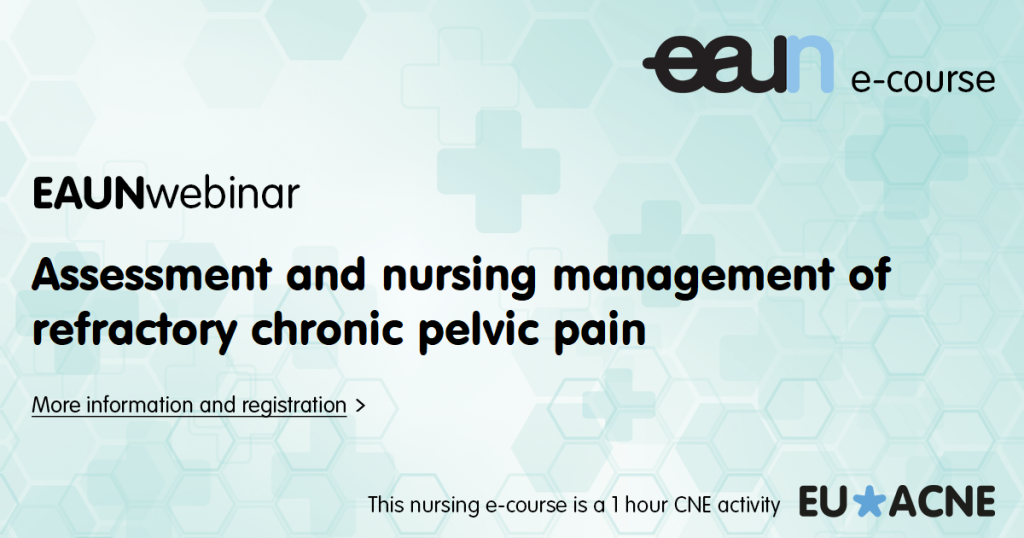 EAUNwebinar: Improving psycho-social care of patients with bladder cancer
e-course
By the EAUN Special Interest Group on Bladder Cancer – EU*ACNE accredited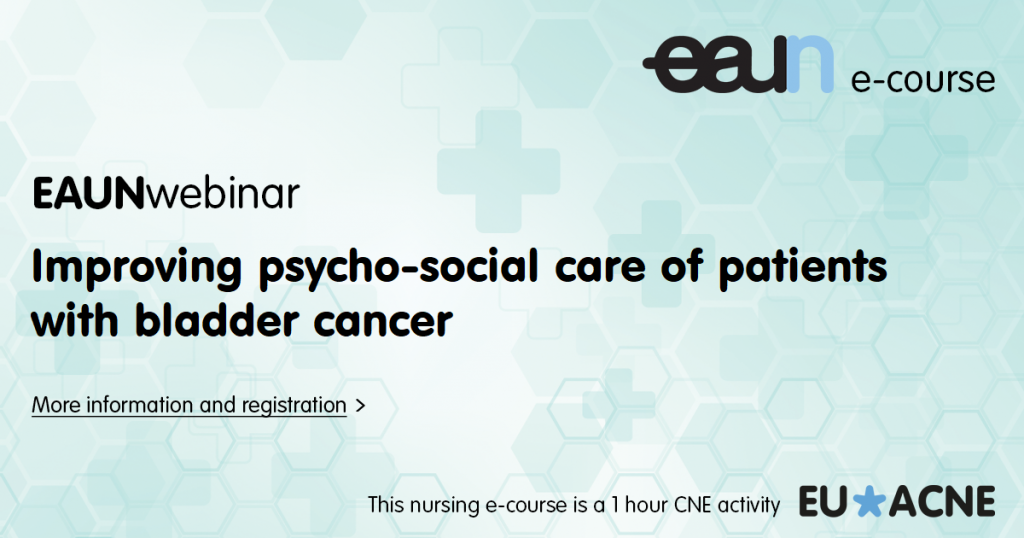 EAUNwebinar: Shared decision-making in prostate cancer: What's new? 

e-course
By the EAUN Special Interest Group Prostate Cancer – EU*ACNE accredited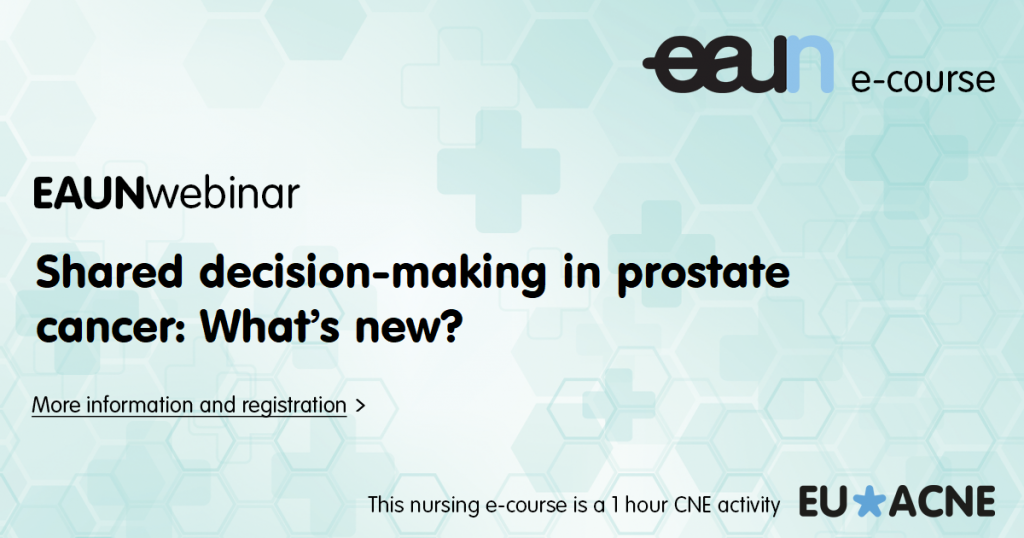 EAUNwebinar: Updates in bladder cancer  treatment and care

e-course
By the EAUN Special Interest Group on Continence – EU*ACNE accredited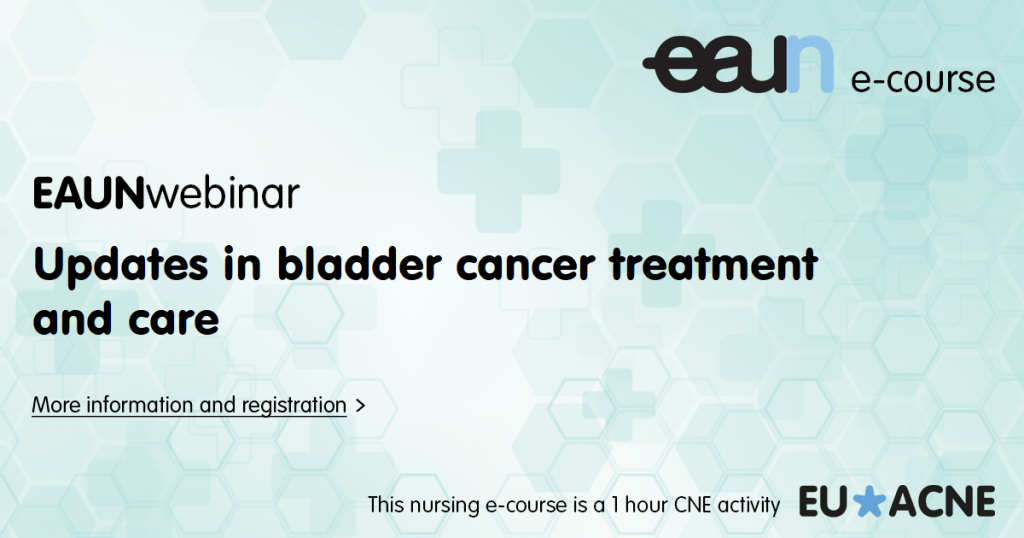 EAUNwebinar: The ins and outs of indwelling catheterisation and patient assessment for pelvic floor rehabilitation
e-course
By the EAUN Special Interest Group on Continence – EU*ACNE accredited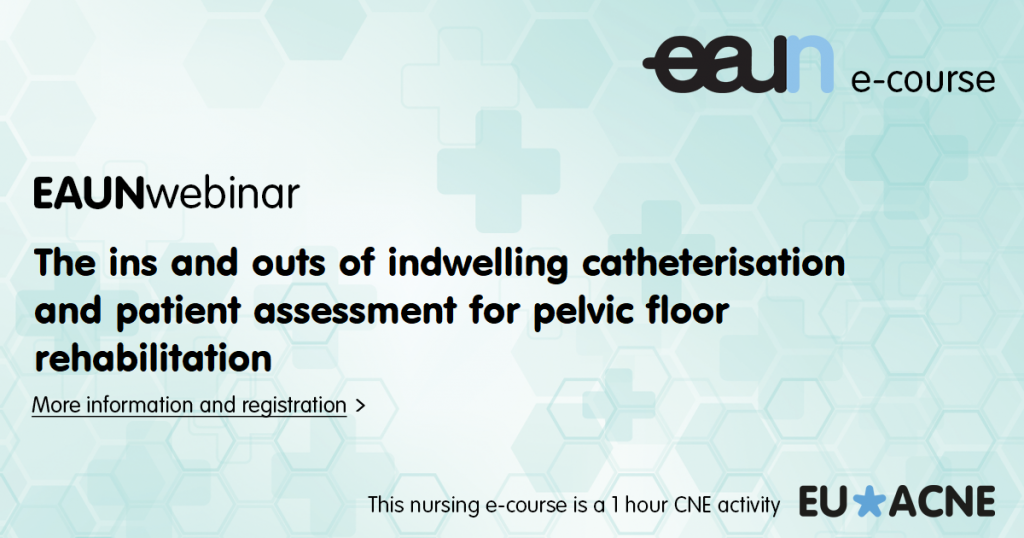 EAUNwebinar: The effects of androgen deprivation therapy (ADT), the role of nurses and exercise in prostate cancer patient care 

e-course
By the EAUN Special Interest Group on Prostate Cancer – EU*ACNE accredited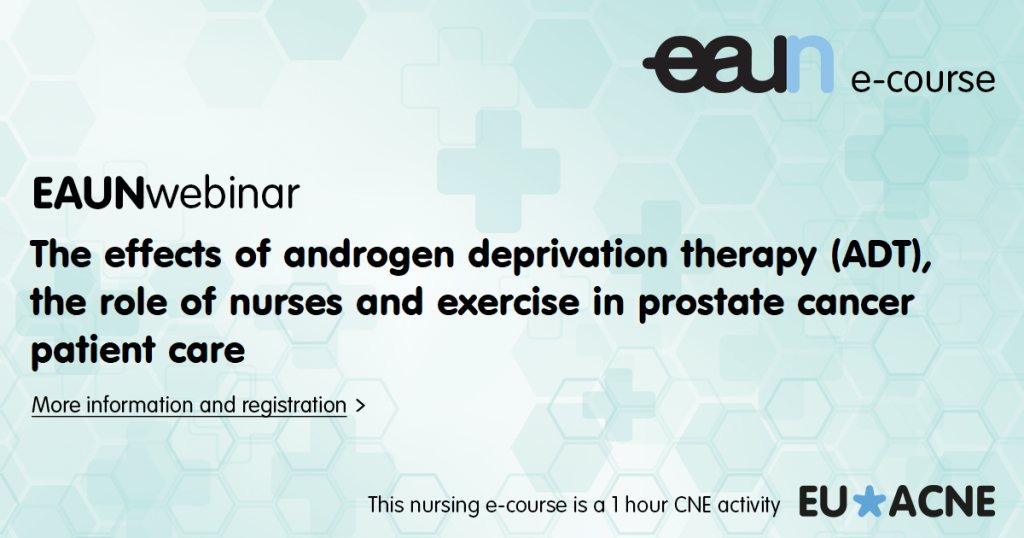 Preventing Catheter-associated Urinary Tract Infections
e-course
By Dinah Gould – RCN accredited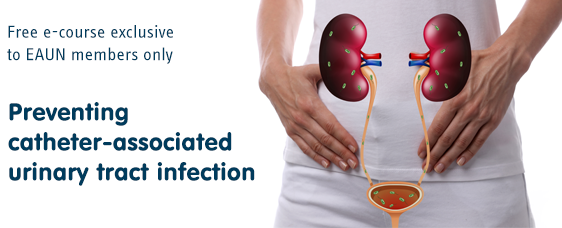 Nephrostomy Pigtail Catheter
e-course
By Aalborg University Hospital, Denmark – EU*ACNE accredited